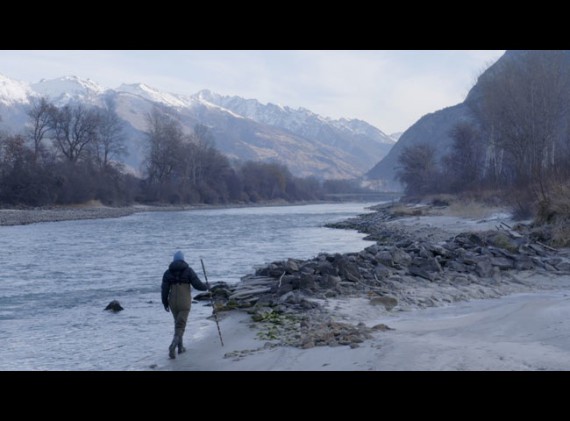 LA COMPAGNIA
Thursday, October 12th, La Compagnia, 3:00pm

DANS LE LIT DU RHÔNE
The River's Bed
by by Mélanie Pitteloud
Switzerland, 2017, 88'

Event in collaboration with Publiacqua e Water Right Foundation
The river Rhône has been straitjacketed for 150 years, the history of a domination of its course by humans. But the river has not yet been tamed! Following some disastrous floods, a gigantic construction site is in the process of revitalizing it into a larger-sized space. This engaging and poetic film, shot in the company of inhabitants linked to the future of the Rhône, is a journey that prompts universal questioning of our relationship with nature and territory.



Thursday, October 12th, La Compagnia, 4:30pm

LES CHANTS DE LA MALADRERIE
Songs Next Door
by Flavie Pinatel
France, 2017, 26'

La Maladrerie is a social housing neighbourhood near Paris planned according to a utopia. The 900 apartments designed by Architect R. Gailhoustet are all different, just like the people who inhabit them. Today the building is decaying, but they idea from which they stemmed was innovative, i.e. that the place in which people live can affect their sociality. Just as the architect tried to see the lives of the others in a different way, the film director has looked for her own way to describe La Maladrerie and its complexity: by collecting the songs echoing between buildings and parks, trees and ponds, graffiti and ruined asphalt.



Thursday, October 12th, La Compagnia, 4:30pm

IL MONDO O NIENTE
The World or Nothing
by Chiara Caterina
France, 2017, 45'

Chiara Caterina rides across a region, Basilicata, in search of its pieces of bitterness and wonder. She goes from the sky to the sea, from the grottos to the rivulets of toxic spill that seep into the soil cracks, from the wolves' cries to wild boar hunting. She leaves all the unnecessary behind, cleaning her camera lens from the residues of superficiality to be able to immerse herself into those details that are as small as dense, and which, when juxtaposed, compose a fresh, hypnotic image of Basilicata.



Thursday, October 12th, La Compagnia, 6:15pm

GOOD LUCK
by Ben Russell
France, Germany, 2017, 143'

Beginning with a 600-meter descent into the depths of the earth, Good Luck shines a flashlight onto the human face of labor in the time-warp'd working conditions of an underground state-owned mine in Serbia. The hiss of oxygen cuts through the diesel rumble, the walls of the office vibrate with explosions two levels below; half-forgotten, these miners' physical struggle finds its mirror a continent away – in the tropical heat of an illegal Surinamese gold mine. The water pumps roar under the blinding sun; silver liquid rolls across the hand of a miner as he adds mercury to dirt in a never-ending search for gold.

Thursday, October 12th, La Compagnia, 9:30pm

LE VÉNÉRABLE W.
The Venerable W.
by Barbet Schroeder
France, Switzerland, 2017, 95'

In Burma, the "Venerable Wirathu" is a highly respected and influential Buddhist monk. Meeting him amounts to traveling to the heart of everyday racism and observing how Islamophobia and hate speech lead to violence and destruction. Yet this is a country in which 90% of the population has adopted Buddhism as a faith: a religion based on a peaceful, tolerant and non-violent way of life.