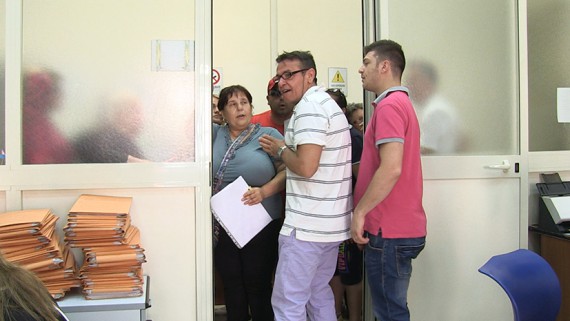 LA COMPAGNIA
Tuesday, October 17th, La Compagnia, 3:00pm

MYmovies Audience Award - Italian Competition

APERTI AL PUBBLICO
by Silvia Bellotti
Italy, 2017, 60'

The social housing authority of Naples manages the 40,000 housing units of the city and province. Its offices become the stage of heated verbal combats between the employees, whose task is to apply norms and regulations with impartiality, and the multitudes of applicants who present cases that can hardly, if not inscrutably be solved. The film oscillates between Kafkaesque absurd and the funniest episodes of the Neapolitan comedy with a non-judgmental approach, aiming to show the audience how this 'bureaucracy of compromise' works.

Tuesday, October 17th, La Compagnia, 4:00pm

MYmovies Audience Award - International Competition

LA CONVOCAZIONE
The Call
by Enrico Maisto
Italy, 2017, 57'

Appeal Court of Assizes, Milan. Morning. An unfamiliar, empty room accommodates a few people summoned there, on that day, without grounds. Their eyes look dazed, the half exchanges between them are cautious. At this point, the viewer is wonderfully, unexpectedly let into an intricate world made of whispered comments, breaths, silences, questions, and quiet confessions from strangers to strangers. These are the fragments of faces and thoughts belonging to the unknown individuals chosen for the trial jury of the Milan Appeal Court of Assizes, that is working on the most well-known massacres and crimes of the past few decades in Italy.



Tuesday, October 17th, La Compagnia, 5:00pm

Best Short Ducumentary

DUELO
Duel
by Alejandro Alonso Estrella
Cuba, 2017, 12'

According to an ancient Caribbean ritual, manufacturing a wooden cross can placate the anxiety stemming from your inner demons - in Yoan's case, the image of an absent father that haunts his daily. Therefore, Yoan is about to do so, encouraged by his mother. However, what might look like a normal depiction of an archaic ritual is just the starting point of a more intimate, mysterious story, made of silences, internal and external movements, gestures, and exorcisms.



Tuesday, October 17th, La Compagnia, 5:00pm

Best Mid-Length Documentary

ALA HAFET ALHAYAT
On the Edge of Life
by Yaser Kassab
Syria, 2017, 45'

Yaser and Rima leave Syria to Lebanon, but after receiving the news that his younger brother passed away in Aleppo, they end up in a remote place in Turkey, where the silence and the monotonous daily life being broken by the family calls whom still living in Aleppo. To spend a year and a half, until they decide to take the boat to Sweden.



Tuesday, October 17th, La Compagnia, 6:15pm

Best Feature-Length Documentary

ALSO KNOWN AS JIHADI
by by Eric Baudelaire
France, 2017, 102'

The possible story of a man, Aziz, told through the places he traversed: the clinic where he was born in the Parisian suburb of Vitry, the neighborhoods he grew up in, his schools and workplaces. Then, his departure to Egypt, Turkey and the road to Aleppo where he joined the ranks of the al Nusra Front. A journey tracked by a second storyline, made of extracts from a judicial archive: police interrogations, wiretaps, surveillance reports. Documents intertwined with images and sounds to compose a film that pertains less to a singular character, Aziz, than to the architectural, political, social and judicial landscapes in which his story unfolded.



Tuesday, October 17th, La Compagnia, 9:00pm

THIS IS EVERYTHING: GIGI GORGEOUS
by by Barbara Kopple
USA, 2017, 91'

In collaboration with Gucci
This is Everything: Gigi Gorgeous portrays the intimate journey of Gigi Lazzarato, a fearless young woman who began life as Gregory Lazzarato, posting beauty and fashion videos to YouTube from his bedroom, only to later come out as a transgender to an audience of millions. The film provides a raw and revealing look into a life that never compromises happiness, and spotlights a family's unwavering and unconditional love for a child.