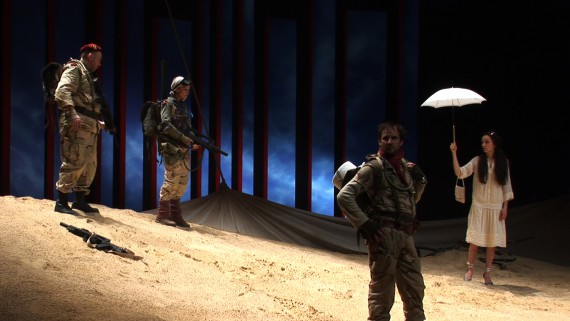 SPAZIO ALFIERI
Friday, October 13th, Spazio Alfieri, 3:00pm

ANNA. VOCE DI UN'OSTETRICA
by Teresa Debenedettis
Italy, 2017, 28'

Scuola Holden Torino
Anna Ruocco is the coordinator of the association House-Maternity "Prima Luce" in Turin that, among other things, promotes planned home birth assisted by professional obstetricians. Anna, an obstetrician herself, is also the leading character in this film, and tells the stories of some of the women before they decided to give birth at home. With great thoughtfulness, the film-maker follows the intimate daily work that Anna carries out with her women, who trust her hands, voice, energy, and knowledge completely.

Friday, October 13th, Spazio Alfieri, 3:00pm

PERCEZIONI
by Alfredo Milano
Italy, 2017, 30'

Scuola Holden Torino
To see. To hear. To touch. Three female characters, three artists, guide the audience through the three worlds they perceive respectively with: sight (Melania de Levya is one of the most acclaimed photographers of the contemporary scene), hearing (Carlotta Padovan is a sensitive singer musician and music therapist), and touch, with Vania Talpo, a refined artist who works with glass. The film is well constructed on the three women's artistic work.

Friday, October 13th, Spazio Alfieri, 4:45pm

ENGEKI 2
Theatre 2
by Kazuhiro Soda
USA, Japan, France, 2012, 170'

Observational Film #4 - Can the theatre arts survive in the 21st century? If Theatre 1 is about the world of Oriza Hirata, Theatre 2 is a feature documentary, which depicts the relationship between Hirata and the world we live in. In order for his art and his not-so-commercial company to survive this highly capitalistic modern society, what kind of strategy does Hirata have and practice?



Friday, October 13th, Spazio Alfieri, 8:30pm

ARCA HOTEL
by Gabriele Licchelli, Santiago Raphael Priego
Italy, 2017, 54'

In a small village in South Italy, an old hotel of the 1980's located a few kilometres from the sea, Arca Hotel, shelters fifty migrants who have been waiting for months for the local authority's ruling on their right to receive their documents. Aged from twenty to thirty, they all come from western Africa and live suspended between the hardships of their past and the uncertainties of the future. A little change breaks their daily routine and they have to face a community that looks at them with suspicion and diffidence.



Friday, October 13rd, Spazio Alfieri, 9:45pm

MEUTHEN'S PARTY
by
Germany, 2017, 93'

The film is a portrait of a provincial politician who doesn't shy away from spreading racist sentiments with a smile on his face. Jörg Meuthen, a professor in Economics, runs for parliament of Baden-Württemberg. We follow the prime candidate of the populist rightwing party `Alternative for Germany' (AfD) during his election campaign. The film accompanies him on his journey from nocturnal placarding, speeches in local pubs and street campaigning to an audacious address to thousands of party members until he holds his first speech in the Parliament. The portrait of Jörg Meuthen illustrates the mechanisms of simple rhetoric to capture the masses.