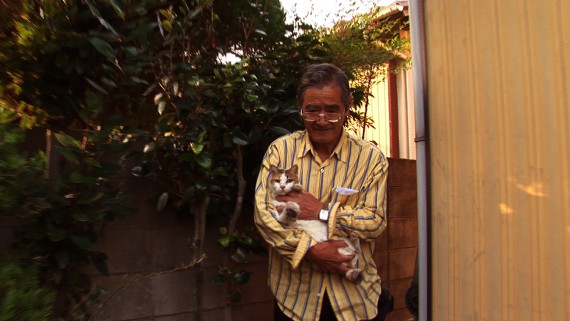 SPAZIO ALFIERI
Sunday, October 5th, Spazio Alfieri, 3:00pm

Museo di Beirut 10'
La cooperazione italiana per il patrimonio culturale

following:

Wallah Je te jure
by Marcello Merletto
Niger, Senegal, Italy, 2016, 63'

The film tells the stories of men and women travelling along West African migration routes to Italy. Senegal's rural villages, Niger's bus stations and "ghettos" full of traffickers, Italian squares and houses are the backdrops of these courageous trips, which often end in tragedy.

Sunday, October 15th, Spazio Alfieri, 4:15pm

THE FLICKER
by Kazuhiro Soda
USA, 1997, 17'

James is a photographer who takes pictures on the streets of New York City. One day, he encounters a blind man standing on a lonely street. James feels drawn to the man's mysterious aura and snaps several photographs of his alluring face. However, later, while reviewing the pictures, he discovers that he missed the most crucial moment. One that will never return.

Sunday, October 15th, Spazio Alfieri, 4:15pm

A NIGHT IN NEW YORK
by Kazuhiro Soda
USA, 1995, 10'

Late at night, a Japanese businessman enters a pizza shop and observes strange but typical New Yorkers eating their pizza in their own queer ways. The businessman makes fun of them, believing he is the only one that is normal person there. However, it soon becomes apparent that he is no less strange than them.

Sunday, October 15th, Spazio Alfieri, 4:15pm

A FLOWER AND A WOMAN
by Kazuhiro Soda
USA, 1995, 5'

A young woman and a flower are matched, thanks to the stuff of the bodies and the dynamics of symbolism, from their simultaneous blossoming to the accomplishment of each other's destiny: for the woman, meeting a man and achieving motherhood, for the flower – cut and thrown away – new, multiplied life when a flowerbed blooms again.

Sunday, October 15th, Spazio Alfieri, 4:15pm

PEACE
by Kazuhiro Soda
Japan, USA, Korea, 2010, 75'

Observational Film Extra - What is peace? What is coexistence? And what are the bases for them? Peace contemplates these questions by observing the daily lives of people and cats in Okayama city, where life and death, acceptance and rejection, are intermingled.



Sunday, October 15th, Spazio Alfieri, 6:30pm

NO INTENSO AGORA
In the Intense Now
by João Salles
Brazil, 2017, 127'

Made following the discovery of amateur footage shot in China in 1966 during the first and most radical stage of the Cultural Revolution, No intenso agora speaks to the fleeting nature of historical moments of great intensity. Scenes of China are set alongside archival images of the events of 1968 in France, Czechoslovakia, and, to a lesser extent, Brazil. In keeping with the tradition of the film-essay, they serve to investigate how the people who took part in those events continued onward in their life after the political passions had cooled.



Sunday, October 15th, Spazio Alfieri, ore 21:00

L'ULTIMA POPSTAR
The Last Popstar
by Claudio Casazza, Stefano Zoja, Carlo Prevosti
Italy, 2017, 45'

Monza, Italy, March 25th, 2017 – a day among the believers waiting for the Pope. A crowd of over one million people gathers to attend mass. The film describes the preparation for this great event step by step: setting up a stage ten times bigger than those made for rock stars at San Siro stadium, and the work of hundreds of volunteers who control the enormous inflow of people. It looks somewhat like a playground: music, often out of context, inundates the faithful, while the scarves flapping are reminiscent of those of soccer team supporters. A film about religion in our times, in which silence is not contemplated.



Sunday, October 15th, Spazio Alfieri, 10:15pm

FREEZING SUNLIGHT
by Kazuhiro Soda
USA, 1996, 85'

Jon and Jelena, a young couple, have recently begun co-habiting in a small apartment, deep in the heart of East Village. When Jon's distant cousin James visits New York City and moves into the couple's tiny apartment for a week, his habits conflict with Jon and Jelena's structured life, and James is left feeling like an unwelcome stranger. He leaves their apartment to face the jaded city, floating from block to block, street to street, not quite knowing if he will survive the cruel Manhattan twilight.