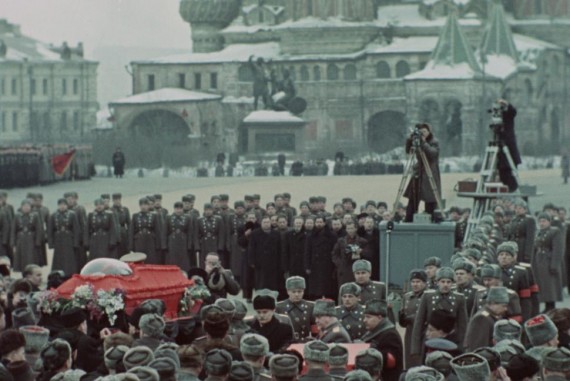 60th FdP - STATE FUNERAL by Sergei Loznitza
Director: Sergei Loznitsa
Production: ATOMS&VOID (Sergei Loznitsa, Maria Choustova), Studio Uljana Kim (Uljana Kim)
Country: Netherlands, Lithuania
Screenplay: Sergei Loznitsa
Editor: Danielius Kokanauskis
Sound: Vladimir Golovnitski
Running Time: 135'
SYNOPSIS
Unique, mostly unseen before, archive footage from March 1953, presents the funeral of Joseph Stalin as the culmination of the dictator's personality cult. The news of Stalin's death on March 5, 1953, shocked the entire Soviet Union. The burial ceremony was attended by tens of thousands of mourners. We observe every stage of the funeral spectacle, described by Pravda newspaper as "the Great Farewell", and receive an unprecedented access to the dramatic and absurd experience of life and death under Stalin's reign.
The film addresses the issue of Stalin's personality cult as a form of terror-induced delusion. It gives an insight into the nature of the regime and its legacy, still haunting the contemporary world.
DIRECTOR'S STATEMENT
The death of Stalin meant the death of an epoch. Without even realising this, millions of people, mourning the Leader in March 1953, were also living through a life-changing experience in their own private histories.It is crucial for me to bring the spectator inside this experience not as an impartial observer of a historical event or an admirer of rare archival footage, but as a participant and a witness of a grandiose, terrifying and grotesque spectacle, revealing the essence of a tyrannical regime.I see this film as a visual study of the nature of Stalin's personality cult and an attempt to deconstruct the ritual, which formed the foundation of the bloody regime. It is unthinkable that today, in Moscow circa 2019, 66 years after Stalin's death, thousands of people gather at his tomb on March 5th, in order to lay flowers and mourn his death. I believe it's my duty as a filmmaker to employ the power of documentary image to appeal to the minds of my contemporaries, and to seek truth.
(Information taken from the Venice Film Festival website)