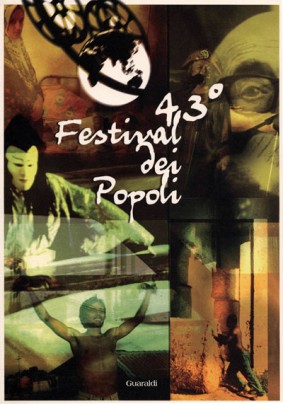 International Competition

Jury:
Franco Piavoli
Vibeke Windeloev
Luis Correia

ASTA-E
di Thomas Ciulei (Romania/Germania)
Miglior Documentario

"An author whose very personal film making approach creates impressive portraits that outlive the film and give us some clues to understand the emotional landscape of a country in social and aconomic terms".

BROADWAY - BLACK SEA
di Vitalij Manskij (Russia/Germania)
Targa "Gian Paolo Paoli" Miglior Film etno-antropologico

"A film that through a caleidoscope of human portraits reveals an ephemeral community that reflects the difficult existential conditions in a country that is changing".

GAZA STRIP
di James Longley (USA)
Menzione Speciale all'unanimità

"An effective document of what happens to children that are constantly exposed to death, chaos and machine-guns".

ZUR LAGE
di Barbara Albert, Michael Glawogger, Ulrich Seidl, Michael Sturminger (Austria)
Menzione Speciale a maggioranza

"An absurd fresco made by different Austrian directors of their society".

Italian Competition

Giuria:
Paolo Orvieto
Enrico Benvenuti
Viviana Dinelli
Anna Gilardelli
Duccio Ricciardelli

ALICE È IN PARADISO
di Guido Chiesa (Italia)
Miglior Documentario

"Interessante spaccato su di una vicenda emblematica di un preciso periodo storico-ideologico-culturale, esperienza di comunicazione brutalmente interrotta estremamente attuale. Uso accattivante e autoironico degli interventi dei protagonisti-attori nell'elaborazione delle immagini abilmente montate".

UN'ORA SOLA TI VORREI
di Alina Marazzi (Italia)
Menzione Speciale

"Per un uso poetico ed evocativo del materiale della memoria, intimistico e letterario".

CHI NON RISCHIA NON BEVE CHAMPAGNE
di Enrica Colusso (Italia)
Menzione Speciale

"Per aver affrontato un tema socio-antropologico attraverso un uso innovativo dei mezzi filmici".