The DIVE Project - Diversity in Visual-Essays
The project provides an opportunity for students of all levels (from kindergarten through secondary school) to reflect on and become aware of how cultural plurality is a component to be valued, not feared or standardized. To mature this awareness, students and pupils are engaged in a course that follows two main directions:
Theoretical audiovisual language literacy training;
Documentary film technique and thematic playful-laboratory training on the key concepts of the project (empathy, dialogue, importance of words, community, active listening, etc.).
At the conclusion of the project, students from participating schools will have created an audiovisual product aimed at peers on the theme of "diversity as a community resource."
The "DIVE - Diversity in Visual-Essays" initiative, carried out by Festival dei Popoli - Italian Institute for Social Documentation Film, the independent film production company Echivisivi and the cultural association L'Aleph, is implemented as part of the National Cinema and Images for Schools Plan promoted by MiC - Ministry of Culture and MiM - Ministry of Education and Merit.
Participating students
Recipients of the project are kindergarten, primary and secondary school classes, in a scaffolding of knowledge and skills transmission in peer-to-peer mode.
After the first phase, dedicated to audiovisual literacy, common to all classes and declined according to the different age groups, the secondary school classes will receive specific technical training in which they will learn how to write and produce an audiovisual work, learning how to "translate into images" an idea.
They will then organize themselves into a small film crew to teach younger students (secondary and primary) how to make some short documentary films on the theme of diversity.
The final products will be presented at the spring edition of "Popoli for Kids and Teens" to be held on Monday, May 29, 2023 at La Compagnia cinema in Florence.
School complexes involved
Istituto Comprensivo "Montagnola Gramsci", Firenze
Istituto Comprensivo "Libero Andreotti", Pescia (PT)
Liceo Statale "G. Pascoli", Firenze
I.S.I.S "Sismondi - Pacinotti", Pescia (PT)
Involvement of teachers
The project is implemented at every stage by the "DIVE" project workers with the active involvement of teachers. A selection of preschool teachers follow the audiovisual training classes to use the acquired skills in the classroom.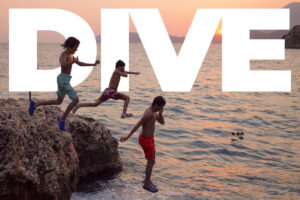 The DIVE Project – Diversity in Visual-Essays, a pathway for students of all grades to theoretical and technical training on the audiovisual language of documentary cinema.
Read more