Popoli for kids and teens
Since 2018, Festival dei Popoli has been offering a selection of documentary films, accompanied by specific workshops for each film, aimed at children and young audeince in Florence. Popoli for Kids and Teens is an initiative realized in collaboration with KinderDocs - International Documentary Film Festival for Children and Young People (Greece) and Krakow Film Festival (Poland). Each screening becomes a unique experience to learn about documentary cinema and enter into the stories of peers, close and far, changing perspectives and broadening the horizons. For the 2020 edition, as a result of the ongoing health emergency, the program of Popoli for Kids and Teens! has been remodeled for streaming. In 2021, screenings in this section will be accessible both in the theater and via streaming. Moreover, since last year, the section has been enriched by an event aimed at the active involvement of participants: Popoli Young Jury Day.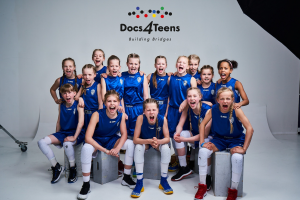 Festival dei Popoli together with Krakow International Film Festival (Poland), Docudays UA (Ukraine) FIPADOC (France) has created the label 'Docs4Teens – Building Bridges', a selection of the 9 best documentaries for children aged 12 to 16 presented in the last years within their respective festivals.
Read more
Popoli Young Jury Day - the Jury made of young people of the Festival dei Popoli
Inaugurated in the 61st edition and realized in collaboration with Cinema Stensen Firenze and Unicoop Firenze, the Popoli Young Jury Day involves the participation of young people between the ages of 11 and 17 who are asked to view 3 films chosen for them and to elect the winner. In 2020, following the closure of cinemas, the jury was carried out remotely, with online viewing of the films and participation in the debate through a platform. Thirty young jurors viewed the films on the Vimeo platform and participated in the debate on Zoom. Together with the films, we shared with them some preparatory educational material aimed at deepening their knowledge of the film. The materials consisted of a fact sheet for each film and a sheet entitled: "The Juror's Questions", containing a series of questions designed to guide the viewing of the films and stimulate reflection on them. In the wake of the event's online success, we plan to replicate it in 2021 in theaters at the Stensen Cinema with kids in attendance.
The following have collaborated with Popoli for Kids and Teens: Lanterne Magiche, Cinema Stensen, Unicoop Firenze, CG Entertainment.
For information write to festival@festivaldeipopoli.org
Two Muslim teenagers build and defend their identity by confronting tradition and modernity through an activity proposed to them at school. Between laughter, rebellion and affection, the two girls share desires and doubts as they reflect on the cultural, social and symbolic values of the traditions linked to their origins. Each with their own identity andpersonalities, they will understand that stereotypes and prejudices are obstacles to developing tolerance and respect for others.
Several thousand unaccompanied foreign minors arrive in Belgium every year. Most of them seek asylum, like Sahil, a 15-year-old Afghan boy. After a year of living from one reception center to another, Sahil joins a host family. This new environment gives him hope for a more stable life, while he awaits the verdict of the Foreign Office.
As India races against time to allow its entire population to go online, Deepa and Jaya - two young girls from a poor neighborhood in Delhi - are introduced to the internet for the first time through an online learning lab held at their school. Their time in the lab opens up a whole universe of new ideas, possibilities and perspectives, and provides them with new ways of thinking about school and themselves.